MADE IN JAPAN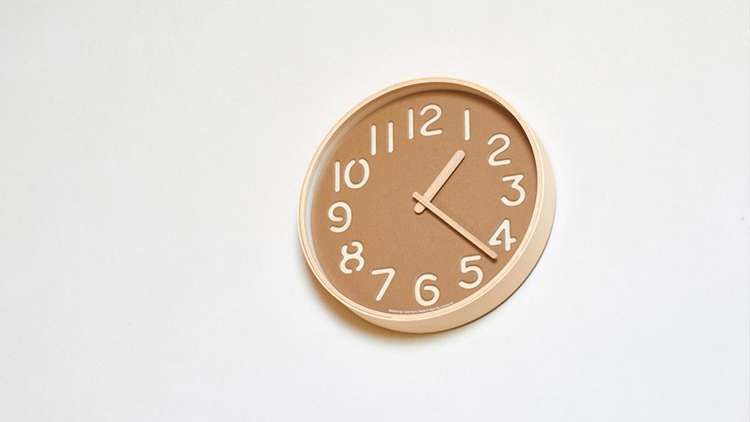 THOMSON PAPER
THOMSON PAPER is a wall clock which combines the fine texture of wood and paper. The clock face is made of paper called Mermaid. The unique texture of the paper is called "Mermaid ripples" named after the ripples of the sea, the home of the mermaid.
The distinction in textures of its face (paper), frame (plywood) and hands (ash) underlines the contrast of natural materials used. The face of Lemnos Thomson clocks is made with a special die-cutting machine which is also used for manufacturing puzzles. This die-cutting technique can make complicated shapes by stamping out from paper or wood using a mold out of thin steel blade fixed onto a wooden board. The edges of the number outlines stamped out are naturally rounded like a tensed water surface and drop soft shadows into the spaces stamped out. The distinct textures of the materials and the cubic effect created by the three-dimensional numbers on the clock face improve the function as an object for telling time. Five pastel tones are selected from the available collection of Mermaid as suitable colors for the plywood clock frame.

Mermaid® is a registered trademark of TAKEO Co., Ltd.

About Mermaid Color tones transferred to a paper surface by using special felt which has a woven design during the papermaking are called felt mark. Mermaid, created in 1956 under the supervision of a designer named Hiroshi Hara (1903-1986), is a series of fine paper of felt mark made by a machine. The series was called "Mermaid ripples"- ripples of the sea that a mermaid lives in- because of the felt mark like gentle ripples and became familiar as "Mermaid" in 1960s. Mermaid has various colors and thickness (ream weight) selected under the supervision of a graphic designer, Ikko Tanaka (1930-2002) in 1999. The series is widely used as a painting kit, a design paper and a book jacket.




Designed by
Yuichi Nara
Duty at Palazzo del Vetro of Glass Studio in Murano Island in Venezia.

Duty at the construction office of Studio Be. Fa. Na. in Lido Island in 2003

Established Design Unit 241 Design with Mr. Federico Traverso, the Italian architect in 2003

Graduated from Venezia Construction UIniversity in 2006

Graduated from Architecture Course of Construction Department at Yokohama National University in 1999

Established Noto Design Office after the return to Japan
Specifications
| | |
| --- | --- |
| Brand | |
| Size | φ305 × d52mm |
| Weight | 830g |
| | |
| --- | --- |
| Material | Plywood, paper ( Mermaid ) , glass |
THOMSON PAPER - RED
MADE IN JAPAN

TAKATA Lemnos Inc. was founded in 1947 as a brass casting manufacturing industry in Takaoka-city, Toyama Prefecture, Japan and we launched out into the full-scale business trade with Seiko Clock Co., Ltd. since 1966.
1-YEAR WARRANTY

International Shipping Available
Brand: Lemnos
Product Code:

NY16-09 RE

Availability:

9
EXTRA DISCOUNT & FREE SHIPPING
BUY 1,500HKD to get extra 20% off
BUY 3,000HKD to get extra 30% off
Buy 1,500HKD or above

home decoration

to get extra 20% discount, based on the

existing special price.

(Promotion Code: EMOH1500)

Buy 3,000HKD or above

home decoration

to get extra 30% discount, based on the

existing special price. (Promotion Code: EMOH3000)

Enter the Promo Code in View Cart if you purchase online.

Show us

the Promo Code

before payment if you purchase in-store or email.

Free shipping service is worldwide. However, s

ome fragile items are not valid for shipping, pick up from store may be required.

Non-Refundable in any circumstance.

Item(s) returned due to faulty issue are NOT INCLUDED in the free shipping service.