Get 15% discount for a SET!
Get 15% discount for a SET!
2x
Dimensions
| | |
| --- | --- |
| Size 1 | L1800*W500*H1020mm (Only 1 display left) |
| Size 2 | L1100*W500*H1020mm |
| Additional Dimensions | Customisation is available, please refer to ''Specification''. |
Product Details
Origin
Made in Thailand
Materials
Natural solid oak wood
Assembly
Not Required
Parts
One-piece
Special Features
PIECE table are crafted beautifully. A one-piece table without any screws which makes the table stand very firm on the floor.
Collection
PIECE


Delivery Info
Contact Us
| | |
| --- | --- |
| Call | +852 3621 0751 |
| Showroom Address | Refer to Contact Us |
| E-mail | sales@emohdesign.com |
| Opening Hours | Refer to Contact Us |
Description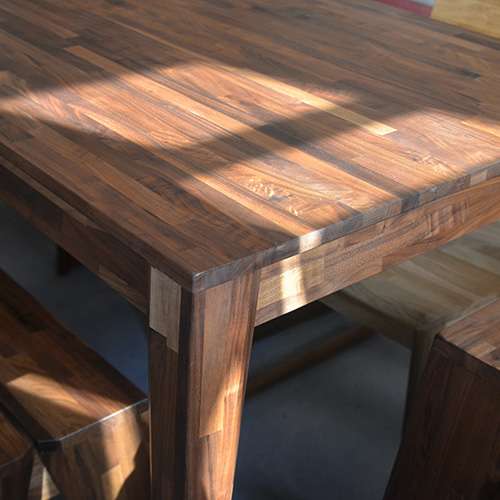 Small pieces connected to become one "PIECE". Lean but firm design makes PIECE steady. It may seem to be trival but actually chill. Chocolate-colour like walnut timbers enhance its charisma.
---
Brand

Take Home Design
Furniture with simple-look yet with personality.
Design and fine detail to complete space where you belong. Neat designed furniture with characters for urban lifestyle & living.
---
Designer

Paphop Wongpanich
Born in 1979, Bangkok. He is an interior design graduate from King Mongkut Institute of Technology, Landkrabang, with his interior design sense, every piece of his products comes simple in form yet sophisticated details which gradually you will feel the sense of its passion.
---
Visit EMOH

Kowloon Showroom
Located between Ngau Tau Kok and Kwun Tong, EMOH showroom shows the latest and stylish display furniture to inspire you. Visit us and find out more.
Dimensions
Other Option 1
Pre-Order size: L1000*D500*H1020 mm (Coming pre-order estimated arrival date: Apr-2017)
Other Option 2
Pre-Order size: L1200*D500*H1020 mm (Coming pre-order estimated arrival date: Apr-2017)
Other Option 3
Pre-Order size: L1400*D500*H1020 mm (Coming pre-order estimated arrival date: Apr-2017)
Other Option 4
Pre-Order size: L1600*D500*H1020 mm (Coming pre-order estimated arrival date: Apr-2017)
Details
Designer
Paphop Wangpanich
Collection
Piece
Piece Bar Table