Dimensions
Product Details
Origin
Made in Thailand
Materials
Oak Wood, Walnut Wood, Teak Wood
Assembly
No
Parts
One piece
Special Features
Match different types of wood, keep the sideboard

natural appearance but away from monotony

Collection
GEO


Delivery Info
Contact Us
| | |
| --- | --- |
| Call | +852 3621 0751 |
| Showroom Address | Refer to Contact Us |
| E-mail | sales@emohdesign.com |
| Opening Hours | Refer to Contact Us |
Description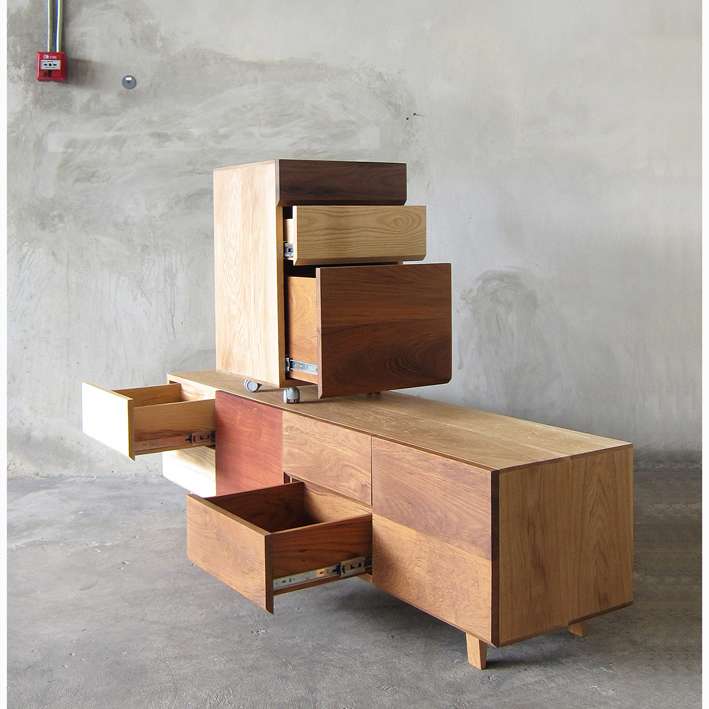 Simple slated edge allows space from fingers and easy pull opening without any handles attached. Emphasize plain characteristics with clean grid shape, durable storage furniture but a little mix and match you can play with.

---
Brand

Take Home Design
Furniture with simple-look yet with personality.
Design and fine detail to complete space where you belong. Neat designed furniture with characters for urban lifestyle & living.
---
Designer

Paphop Wongpanich
Born in 1979, Bangkok. He is an interior design graduate from King Mongkut Institute of Technology, Landkrabang, with his interior design sense, every piece of his products comes simple in form yet sophisticated details which gradually you will feel the sense of its passion.
---
Visit EMOH

Emoh Showroom
EMOH showroom shows the latest and stylish display furniture to inspire you. Visit us and find out more. Know more.
Details
Designer
Paphop Wangpanich
Collection
Geo
Geo Sideboard 200 - G
搬 倉 清 貨 : 可 享 七 折 優 惠


Removal Sale: Purchase $10,000HKD to get extra 30% off.
Wood Craftsmanship
This collection is designed by Take Home Design, which is manufacturing in Bangkok. The products are emphasised on the woodcraftsmanship and the quality of natural wood pieces.
Imported American Wood
This collection is made of imported solid hard wood, which favoured for its exquisite natural wood patterns.
Shows the natural beauty of wood grains.

Structurally strong and long lasting.

Resistant to bug infestation and scratches.

High durability and longevity saves you a lot of effort and expense on maintenance work in return.